A Misty Morning at the Golden Gate: Just a bit of San Francisco
June 30, 2012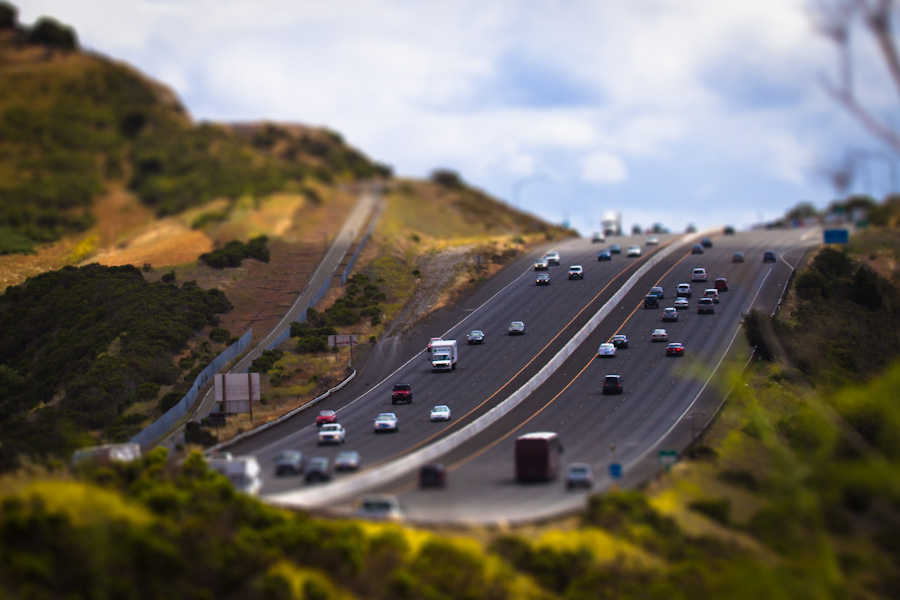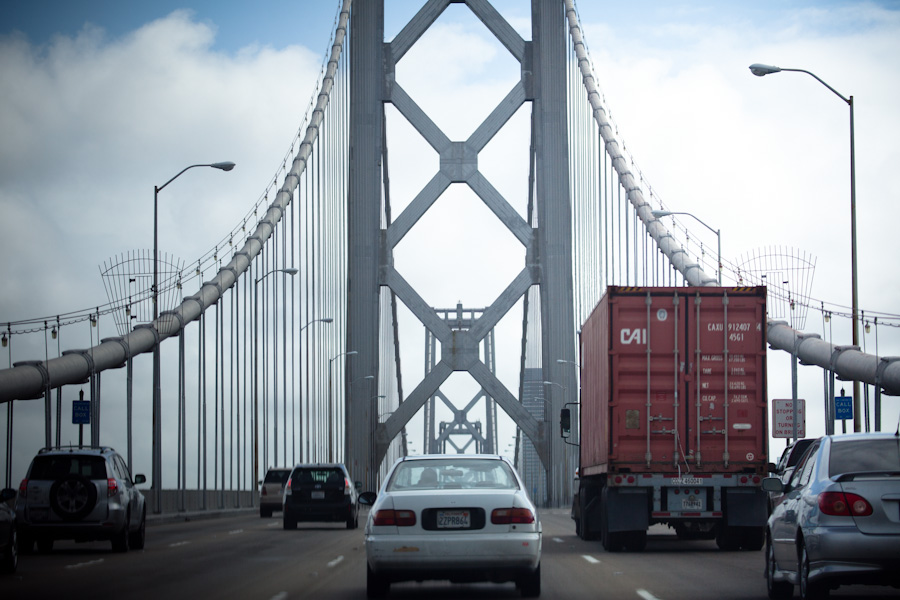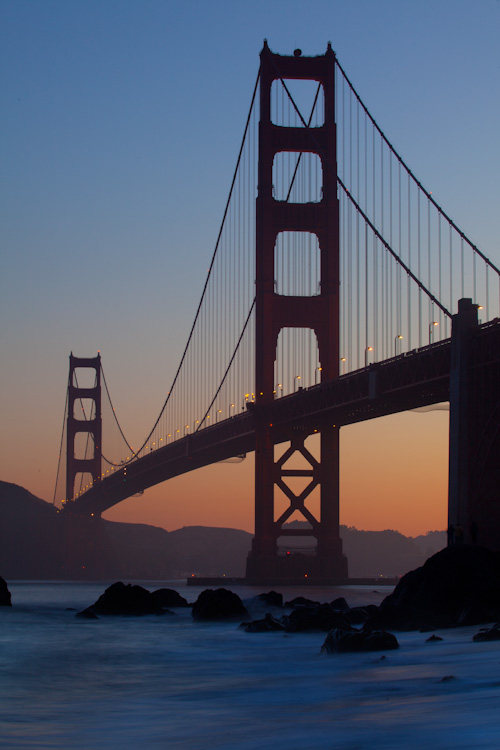 Ah, San Francisco. One of the greatest cities on Earth. Incredible artists, beautiful landscapes, endless parks and positivity. Despite having visited the city countless times during my first run in California, I somehow managed never to bring my camera equipment, or never to utilize it. After having disappointed myself this way so many times, I was determined on this last, albeit short, outing to accomplish as much as possible. To that end, I roused my fellow travelers at 4am, acting with little regard for their fatigue and mental well-being, and dragged them snoring and pouting all the way down to the Golden Gate Bridge for sunrise. We arrived pre-dawn, but as usual I decided the best shot would be a short hike away, and moreover failed to consider the rising tides, dangerous rocky terrain, and lack of weather shielding on my gear. I forged on straight past the "Unstable Area Closed" sign and perched myself on a shallow rock island about twenty feet out to sea, using my body to block the treacherous waves from my camera as it took long exposures, capturing a scene significantly more tranquil than the one I was experiencing.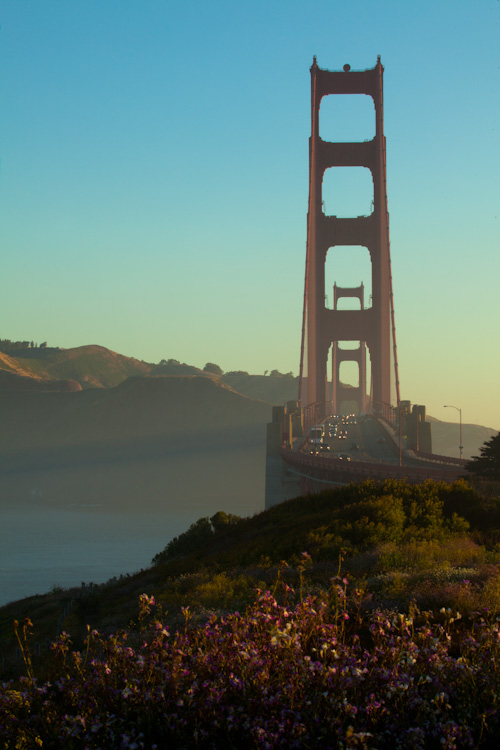 Half a moment after the shutter clicked, I was promptly knocked full force off my precarious perch, grabbing my tripod at the neck and raising it above my head as I tumbled forward, ending up submerged head and all, beneath the waves, but somehow rescuing everything from the wrist up, like the last grab for a stray branch by man drowning in quicksand. Eventually back on shore, successful and exasperated, I checked my equipment for damage (nothing permanent), lined my camera bag with a friend's sweatshirt, and made my way back up the trail.  As we trekked up the cliffs, the sun finally rising above the horizon left long, stretching, shadowy lines in the mist on the far side of the bridge, silhouetted against the green-brown hills and cliffs at the southernmost tip of Marin County.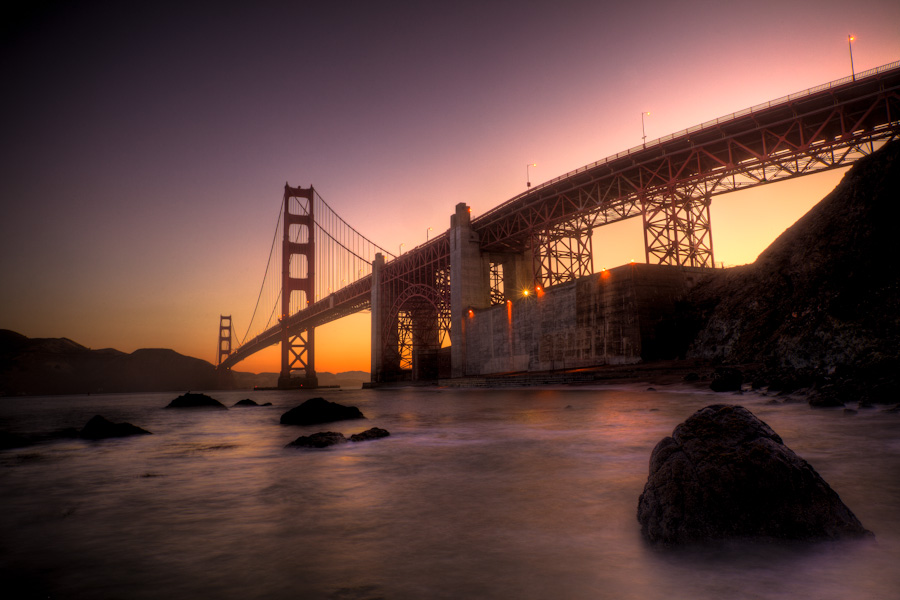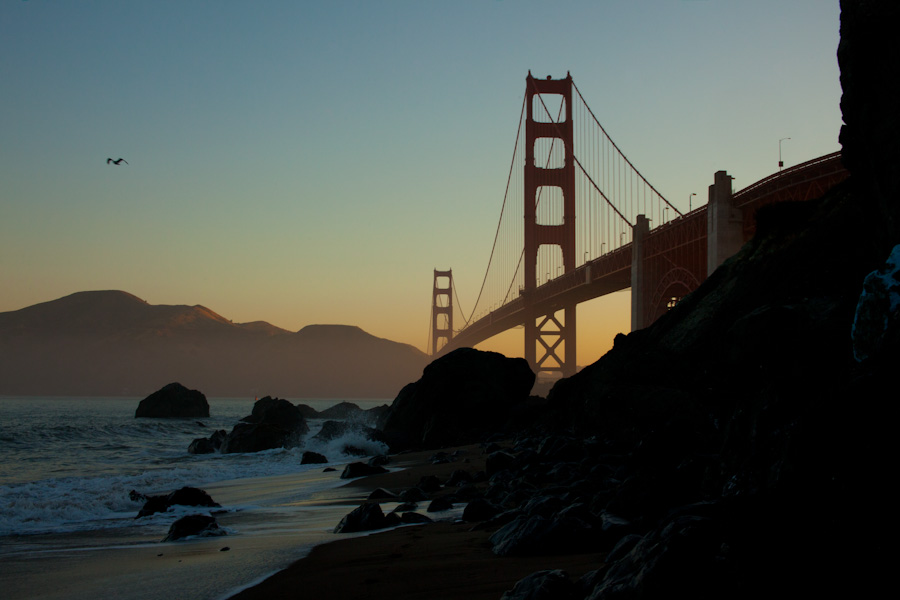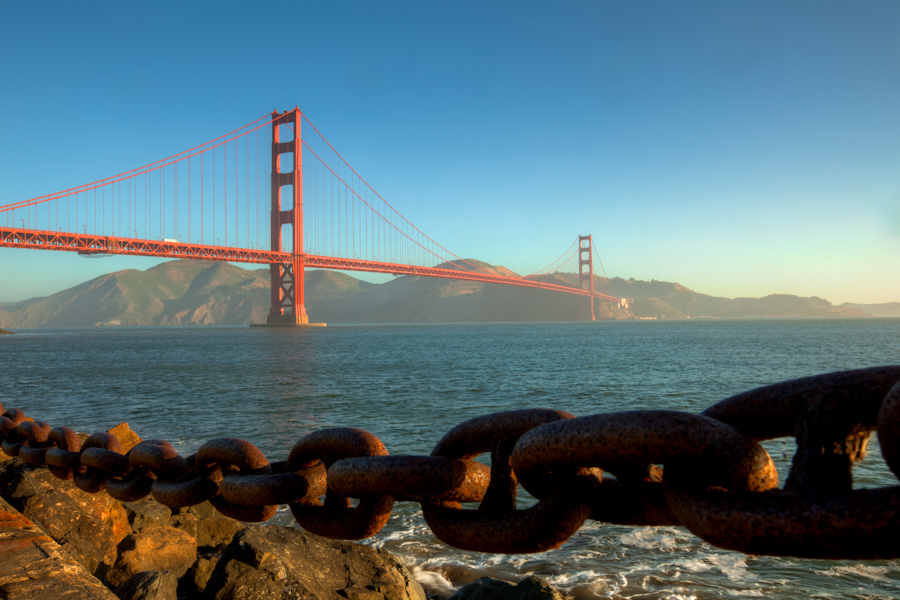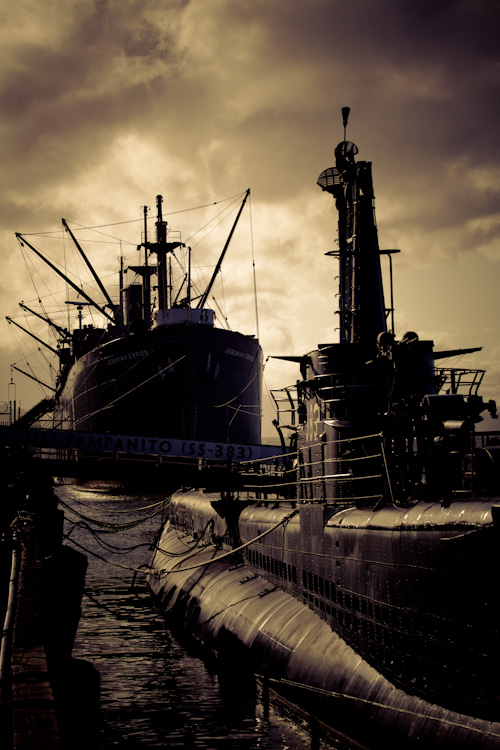 From there we made our way on down to spend a couple of hours as tourists at Fisherman's Wharf. We "enjoyed" some rather poor quality seafood from one of the street salesmen, explored the Musée Mécanique, an antique arcade game museum, and finally continued on to downtown. After a short stroll through the Civic Center, we went looking for a cheap lunch in China Town, where a local who called himself Jackie Chan 2 (and who gave each of us similarly silly names) took us on a short tour of the back alleyways and local eateries, including an unexpected trip to the fortune cookie factory.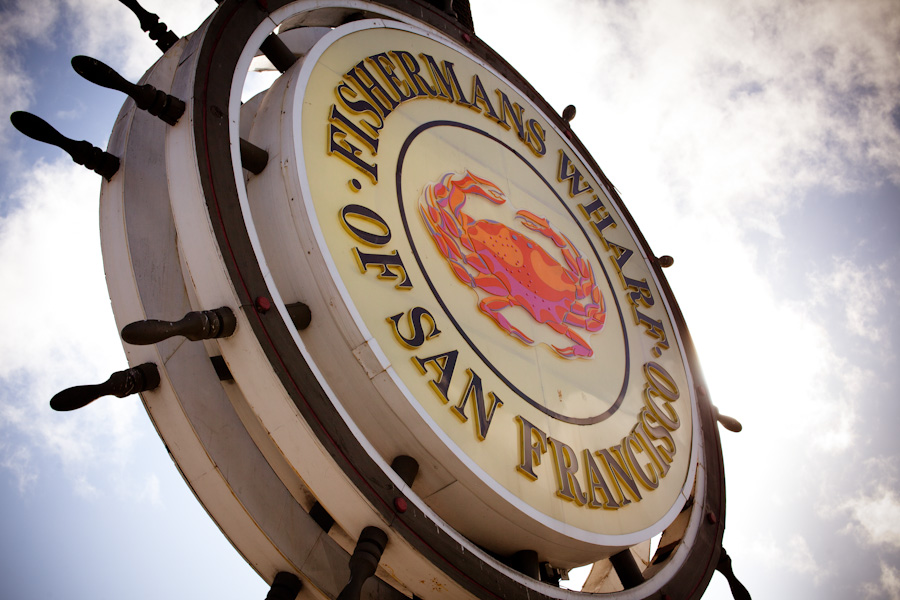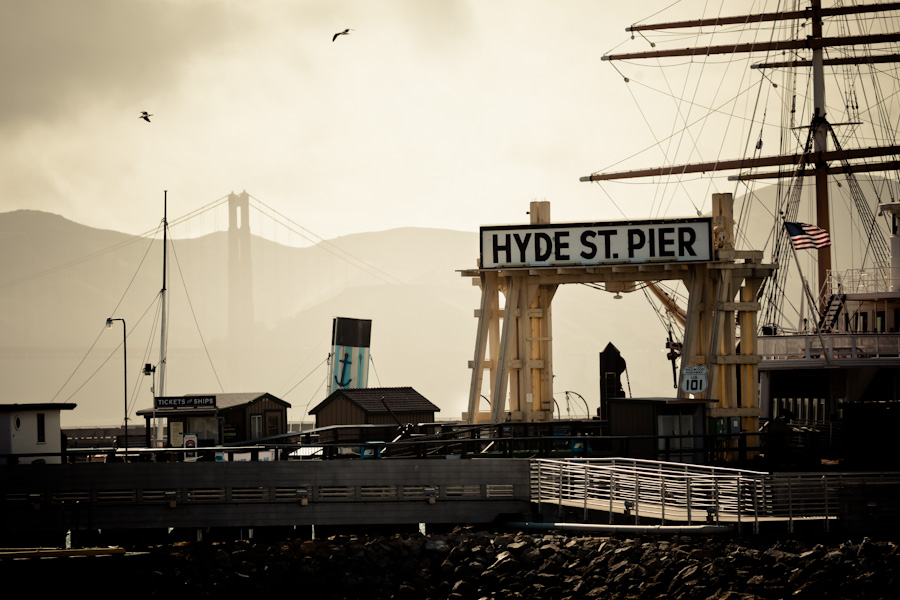 | | |
| --- | --- |
| | |
| | |
| --- | --- |
| | |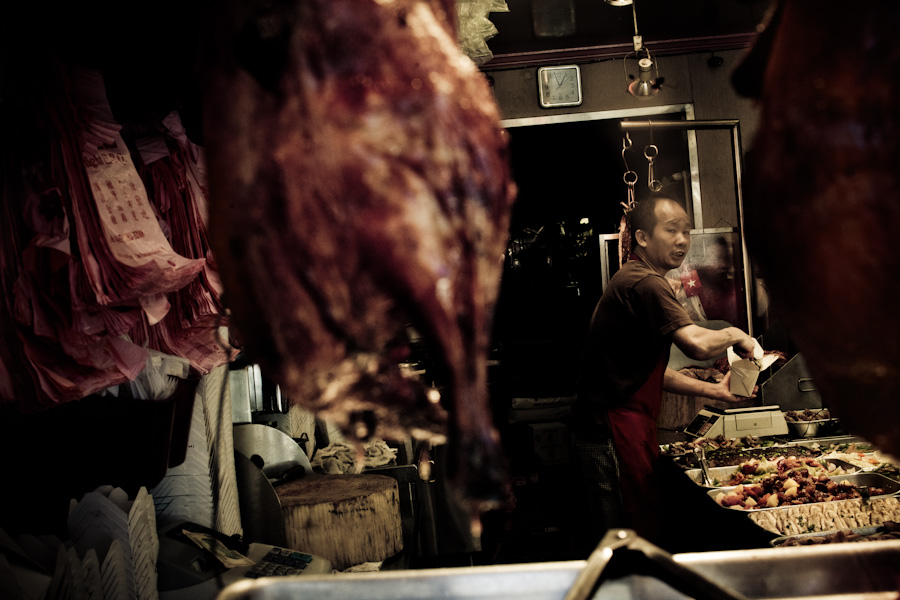 The day concluded with a hike up to my favorite secret sunset spot in the city. I met some of my new favorite people in the world (too easy in San Francisco), and enjoyed a beautiful, if a bit cold and windy, sunset. This place affords an unparalleled 360 degree view of the city from one of its highest hills. I will leave the name of this location unwritten, but if you're astute with details, photos and maps, maybe you can figure it out. Enjoy the view, see you next time.
Happy Travels,
Evan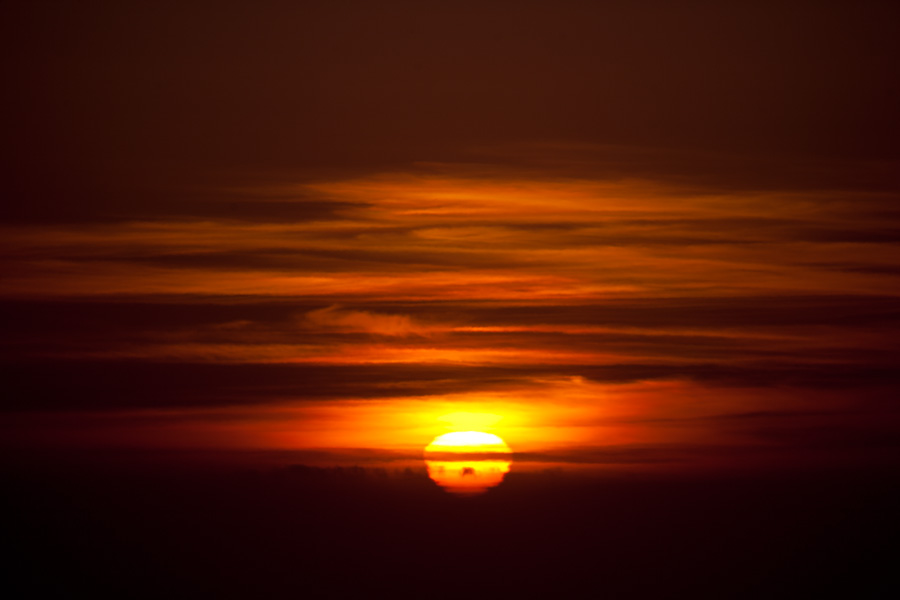 ---